Details
Are you sometimes stressed and angry at your dog? You can have your peace of mind back!
It's only two weeks to the ideal pet... and a happier dog!
Your dog spends two fun weeks, activity filled days in our home, then a lifetime of happiness in yours! It's Force Free, and gives you total control of your dog on and off leash. Best of all, we make it fun and it's guaranteed for the life of your dog.

The ForceFree Method™ is an intuitive system of training that makes sense to both people and dogs. Effective and gentle, the training method works WITH the dogs instincts rather than against them. We achieve off leash reliability, even with distractions, amazingly fast. Most dogs perceive the training as simple "pack cooperation" and play. Therefore, they quickly shed rebellious behavior, and give you more focus than you imagined possible. Doesn't that sound like more fun than correction after correction?
Have other methods failed you and your dog? Call us!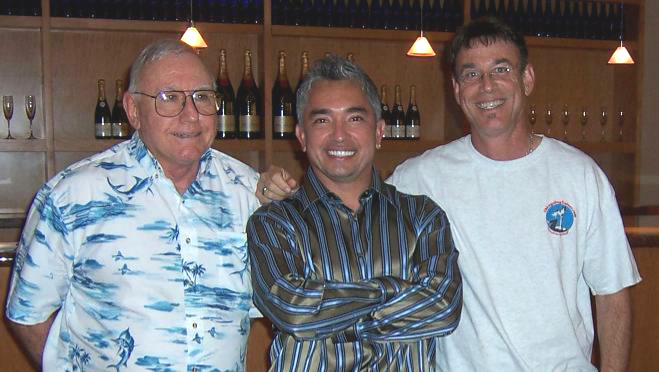 Marc's Father Barney, Dog Whisperer Cesar Millan and trainer Marc Goldberg, CDT
Even veterinarians bring their dogs to us:

When we took Sherman to meet Marc, he assessed his temperament and behavior problems, but importantly, he also assessed our relationship with our dog and what was wrong with the dynamics.

Even though I am a veterinarian, it's not often that I meet somebody with Marc's talent, experience and ability in training dogs. He has a gift of understanding dogs and knowing how to communicate with them in ways that best help them choose to behave beautifully. Thankfully for us, he is passionate about sharing that knowledge! Thank you Marc! Click to read more.

Dr. Shalini Emmanuel, BVMS, MSC
Doctor of Veterinary Medicine

I had worked extensively with my dog by myself as well as with veterinary behaviorists and other trainers, but had little long-term success. In fact, some of the other trainers focused on criticizing rather than helping me remedy this behavior. In only a short time you had him playing rather than picking fights!....Working with you has brought about an improvement in my quality of life by greatly increasing the enjoyment of taking Poe for walks and being able to take him to public places – many of the things that make sharing one's life with a dog fun! Click to read more.

Dr. Karen Terio, DVM, PhD
Doctor of Veterinary Medicine
PhD in Comparative Medicine
Assistant Professor, U. of Illinois College of Veterinary Medicine
On Staff at a major American Zoo