Trainers
Marc Goldberg, CDT
Details

Parent Category: About Us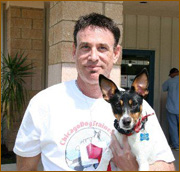 What does it take to offer the best dog training in Chicago? Sensitivity to both dogs and people. Education and credentials. The ability to motivate and gently improve your dog's behavior. Execellent communication skills. The ability to deliver. And most important of all, an abiding love for all dogs.

Marc Goldberg, CDT is a certified dog trainer, and president of the International Association of Canine Professionals. To learn more about the IACP, an organization of over 1,200 members worldwide, please visit http://www.dogpro.org
Marc's story began in 1969 when his first dog, Gus, came in to his life. Gus ran out into the street one day and was hit by a car. Fortunately, he survived. When he was healed up, Marc's mother shipped both boy and dog off to dog training school. Mentored by some of the finest dog trainers in the nation, Marc's career in dig training began at the age of 12. He hasn't looked back since!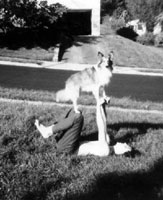 Marc isn't your typical dog trainer. Typically, dog trainers try to sell you specific dog training behaviors such as heel, sit, down, stay and come. Oh, you want your dog to come when off leash? You'd like your dog to stop lunging and growling at other dogs? You need your dog to stop using your home for a bathroom? You could be looking at week after week of lessons, lots of corrections or tons of food bribery.

I'm not the average dog trainer. I don't sell dog training behaviors. I want to deliver you the dream...the dream of a profound and loving relationship with your dog. When dog and human are in a deep relationship, each meets the needs of the other.

Fulfilled dogs do not lunge, bark incessantly, chew your belongings, ignore you. Happy dogs get to run off leash at every opportunity at one of Chicago's beaches, dog parks, on in their Chicagoland yards. Contented dogs come when you call them, walk nicely on the leash, and never need corrections or yelling.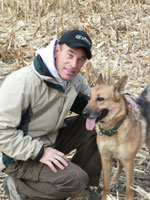 That's why I train with my signature ForceFree Method™. We simply harness the power of Pack Drive...your dog's natural instinct to follow the Leader. That Leader can be you.
Training dogs in Chicago is my specialty and our privilege. I'm here to help you with all your Chicago dog training problems!

Your dog spends two fun, activity filled weeks at my home, then a lifetime of fulfillment in yours! It's Force Free, and gives you total control of your dog on and off leash. Best of all, I make it fun and it's guaranteed for the life of your dog.
The ForceFree Method™ is an intuitive system of training that makes sense to both people and dogs. Effective and gentle, the training method works WITH the dogs instincts rather than against them. I achieve off leash reliability, even with distractions, amazingly fast. Most dogs perceive the training as simple "pack cooperation" and play. Therefore, they quickly shed rebellious behavior, and give you more focus than you imagined possible. Doesn't that sound like more fun than correction after correction?
Why do I train dogs?
Dogs are honest.
Dogs love without condition.
Dogs try to teach me the same.
Dogs adore me with their eyes.
Dogs want to learn what will make me happy.
Pleasing me makes them happy.
Dogs love me more than they love themselves.
My old dogs come to me over the Rainbow Bridge while I sleep.